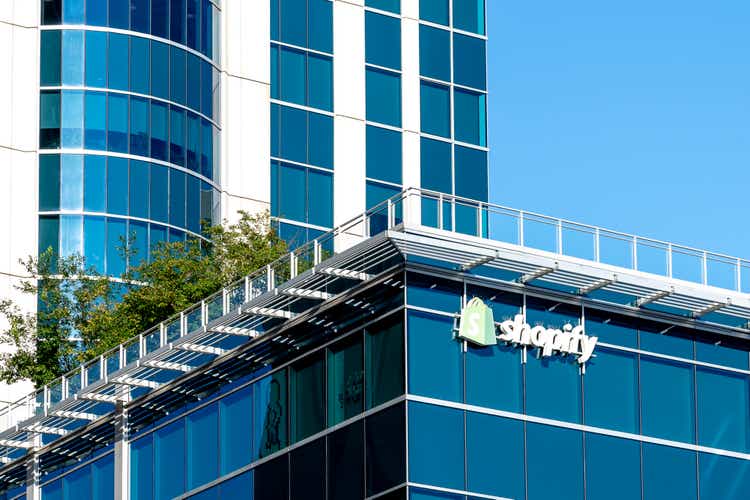 Introduction
Recently, Beating The Market's Head of Research, Ahan Vashi, published an extensive note analyzing Shopify's (NYSE:SHOP) results from the last quarter. We like Shopify quite a lot at Beating The Market, and now that it's trading at a more favorable valuation, we see it as an opportunity to partner with a leading tech giant for decades to come. Ahan breaks down how we plan to accumulate Shopify in the note below.
BTM's thesis for Shopify can be summarized in the following five points:
Shopify is building the infrastructure of e-commerce for the next decade, and that means it is addressing a large ($160B) and expanding total addressable market.
Growth in e-commerce (domestically and internationally) will spur increased revenues at Shopify.
A higher number of merchants on Shopify's platform will boost revenues, free cash flow, and thus share price.
Shopify's partner-positive strategy (it does not compete with the sellers on its platform) will ensure that Shopify remains the go-to solution for its existing user base and potential clients.
Shopify's mission:
Our mission is to make commerce better for everyone, and we believe we can help merchants of nearly all retail verticals and sizes, from aspirational entrepreneurs to companies with large-scale, direct-to-consumer operations, realize their potential at all stages of their business life cycle." – Shopify's Latest Annual Report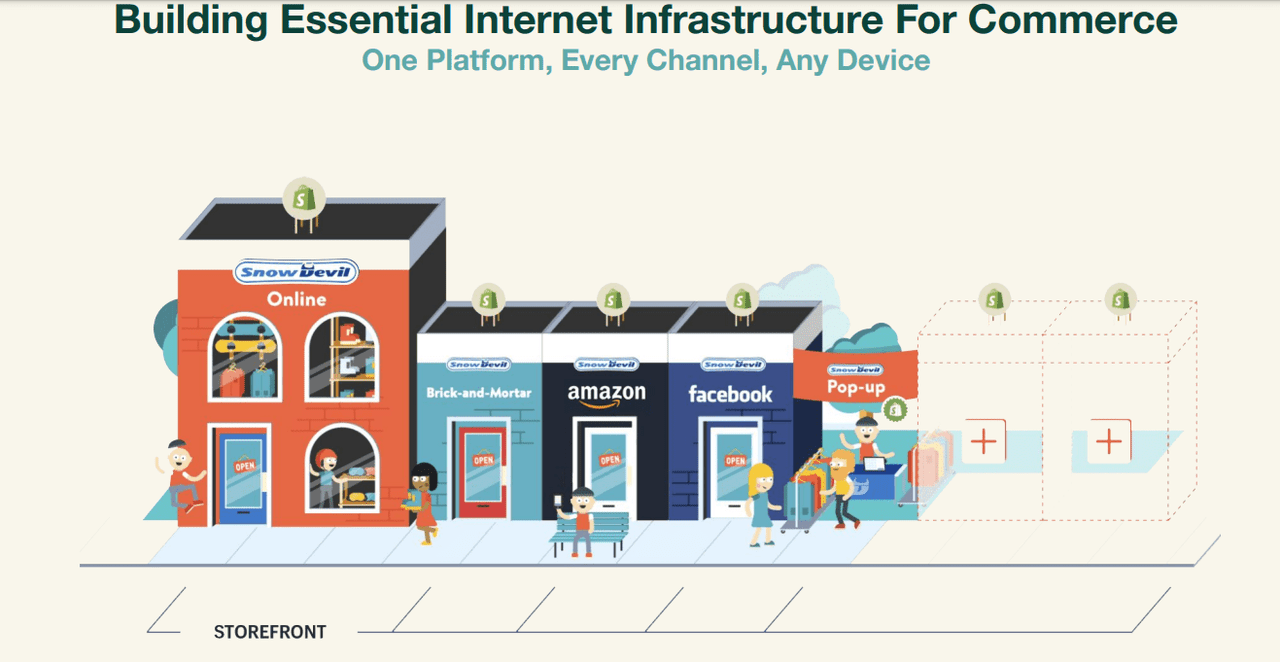 Every merchant needs to offer an effective payment solution for money to be exchanged and to generate sales. However, there are many pain points around processing payments and offering a simple checkout page that's effective at converting customers when they arrive at the checkout page. Each transaction is extremely important to an SMB or merchant who's just launched because each purchase represents an opportunity for merchants to grow their brand and fuel more growth. There's also an incredible amount of insights merchants can leverage by understanding their inflows and outflows to more effectively manage their costs as money moves in and out of their bank accounts.
Shopify is well-positioned to capitalize on open banking trends that allow consumers and merchants to share their transactional and alternative data with third parties to obtain better, more inclusive financial products. These financial products are better for merchants and consumers as they make commerce better for everyone.
The Opportunity At Hand
Shopify processed more than $175B in GMV in 2021, up 47% annually while its revenues rose by 57%, to over $4.6B. As of 2021, more than 10% of U.S. e-commerce is generated by Shopify. Shopify's robust platform makes it easy for SMBs or large brands to make more money through selling online.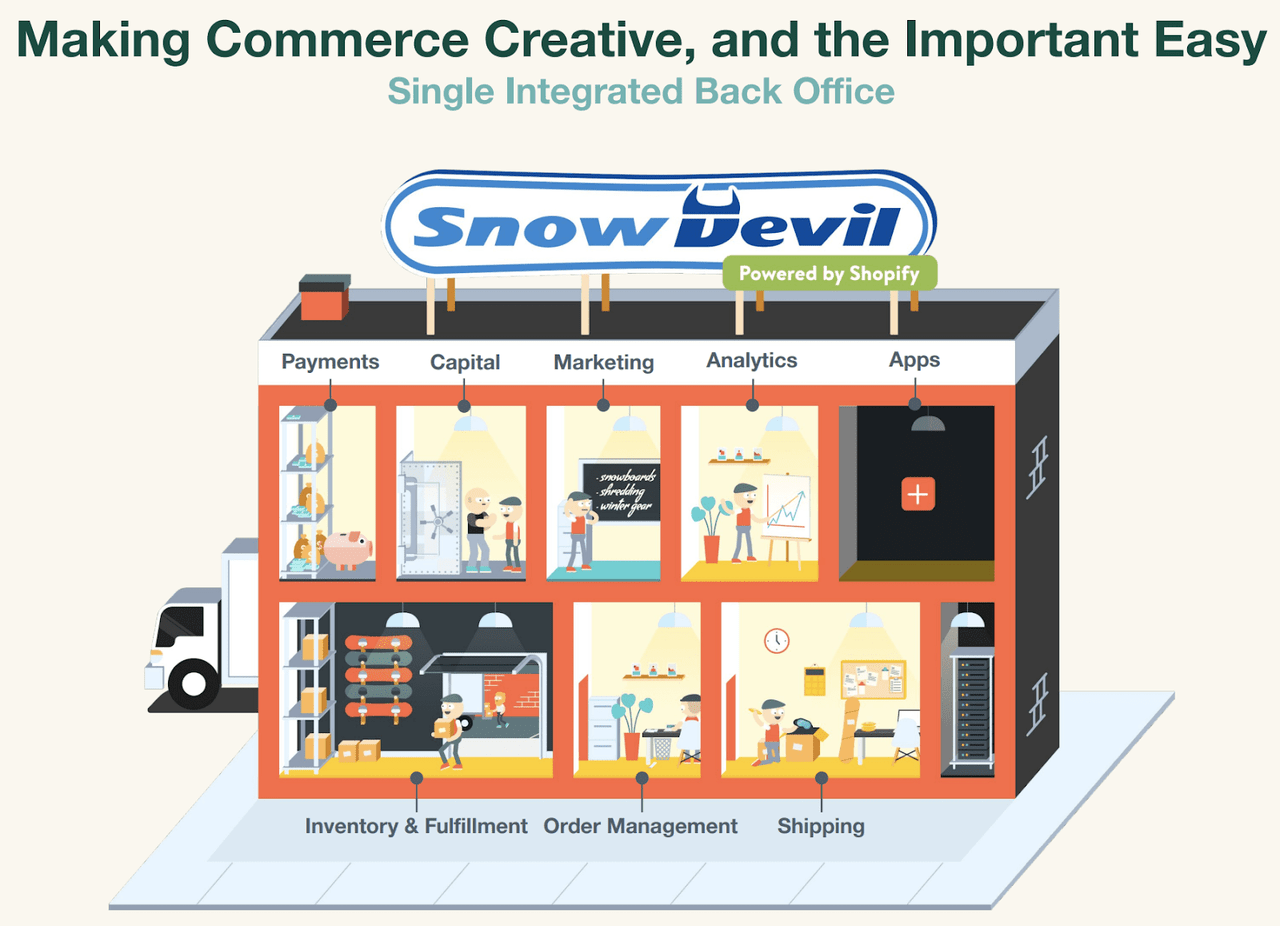 Shopify does it all for its merchants when it comes to integrating a merchant's back office. As depicted in the image above, the last component before a purchase is shipped is the payment part. Open banking allows for consumers and SMBs to safely share their transactional and alternative data with authorized third parties to access better financial products with less friction. Open banking enables Shopify to leverage information regarding consumers shopping at Shopify merchants and use this information to better operate the back office.
For example, Shopify offers marketing services for merchants to offer tailored advertisements. Another example is Shopify using data from the inventory & fulfillment department along with the information from the order management department to help businesses more easily attain capital with less friction. Shopify already offers consumers more than one option to pay at the POS (point of sale) to offer consumers more flexibility while helping its merchants to process more sales.

Given Shopify's scale, it is uniquely positioned to offer embedded financial services for merchants to maximize their business and obtain financial products that will be geared toward their business. Even if a merchant may not receive the same services from a traditional financial institution, Shopify's insights on their merchants' inflows and outflows enable them to serve those who may not be included in the traditional paradigm.
For Merchants
Shopify offers its own payment solution, Shop Pay, for businesses that use the platform. Shop Pay enables online businesses to accept credit and debit card transactions. Shop Pay is also an option for merchants in the U.S. to sell on Google, Facebook, and Instagram, even if they aren't selling on Shopify. This enables Shopify to offer a payment solution for non-Shopify customers to sell on multiple platforms, while also beneficial for current merchants looking to leverage social media platforms.
Shop Pay is powered by Stripe (STRIP) and supported in 17 countries. Stripe also supports a Shopify integration for Stripe merchants that still want to leverage Shopify, but Shopify charges a higher fee for Stripe's direct integration versus merchants who go with Shop Pay. Shopify benefits from the technological advances of open banking as payments and processing services arise from companies like Plaid, Stripe, and Affirm, which seamlessly integrate with Shopify to offer embedded financial services at the POS. These embedded financial services enable merchants to accept more forms of payments while offering more inclusive and consumer-friendly payment options for their customers.
Shopify has better insights into its merchants' businesses because it sees each sale as it comes and enables merchants to leverage internal data points such as SKUs (stock-keeping units) and information from their manufacturers. For more on how this is enabled by Stripe, I recommend my recent open banking note. Shopify also has a partnership with dLocal to enable Shopify merchants to launch in emerging markets using localized payment methods in more than 19 currencies.
Leveraging The Data
Shopify can pre-qualify businesses for loans based on their sales data. The process is speedy, transparent and accessible directly from the user's dashboard. This is a boon for businesses experiencing a pandemic-induced cashflow crunch." – Lending 3.0: Making The Most of The New Ecosystem
Through Shopify Capital, Shopify merchants can accelerate their businesses growth by simply getting access to funds through the program. Shopify enables its merchants to bypass the tedious parts of the loan application process which can be lengthy, while also making it easy for merchants to repay their loans by paying off the funding through a percentage of incoming sales.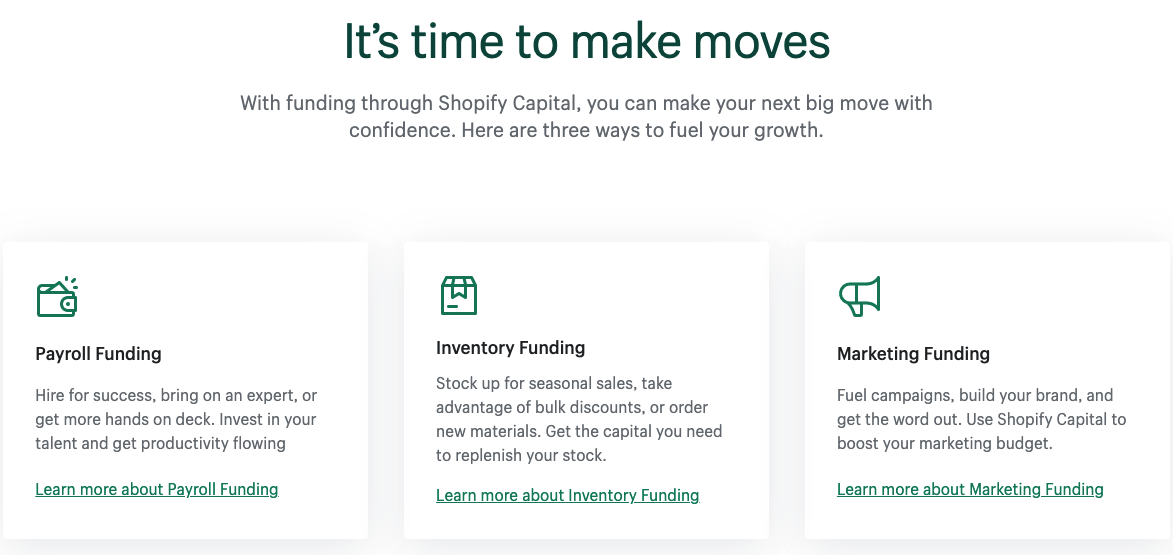 Merchants benefit because they get better and faster access to funding, while merchants are well equipped to make sure it goes towards fueling merchants' growth, as seen above. Shopify Balance is another tool that Shopify offers to its merchants to manage their payments and transactions from one platform. This is essentially Shopify acting as a bank for its merchants and even allows merchants to earn cashback and receive certain partner offers when merchants use their Shopify Balance card.
Shopify continues to add financial services that add value for merchants by enabling them to grow their business on the platform with an emphasis on using data, while Shopify becomes increasingly ingrained into its merchants' businesses as it adds more services to its platform.
For Consumers
Shopify is also greatly improving the experience for consumers by making the checkout process simple. For example, Shop Pay offers a one-click checkout that encrypts and secures a consumer's billing/ shipping information. According to Shopify, Shop Pay is 70% faster than the traditional checkout process with a 1.72X higher conversion rate. Shop Pay reduced checkout fields from 16 to 2, which makes a huge difference in converting orders at the checkout page by making the last step of the transaction that much easier for the consumer.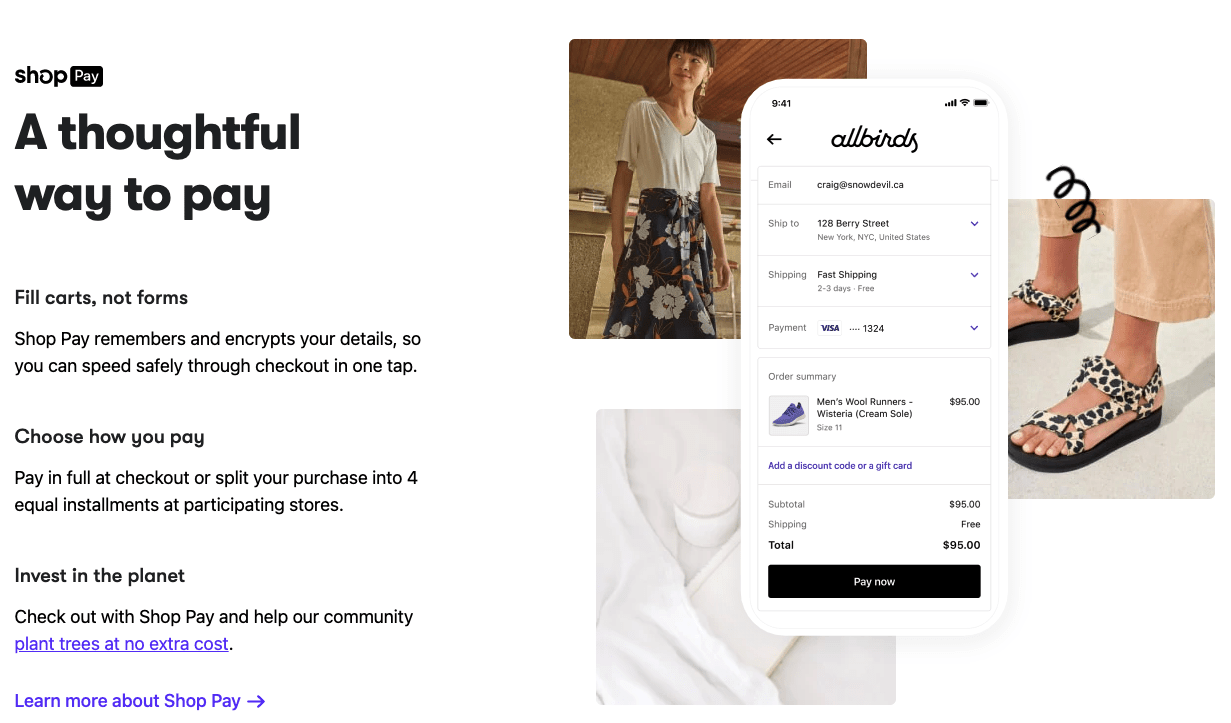 In addition to offering consumers a simplistic experience, Shopify partnered with Affirm (AFRM) as its exclusive buy-now, pay later provider which allows customers to pay with Shop Pay Installments at merchants who choose to offer the feature. Shop Pay Installments leverage Affirm's proprietary technology and its "software-defined, data preserving, vertically integrated network", which enables Shopify merchants to generate insights from both transactional and alternative data to offer consumers more inclusive, delightful financial products at the POS.
By partnering with Affirm and offering installment loans at the POS, Shopify is enabling consumers with an additional payment method that will offer consumers tailored financial products which are best suited to their financial position. I've explained how Affirm stands to be liable for the purchases it approves, hence Affirm is responsible for ensuring the consumer is in a strong enough financial position to pay back the loan over time.
The combination of Affirm's friendly financial products paired and Affirm's commitment to serving the consumer enables merchants to increase conversion by up to 50%. Shop Pay Installments enable merchants to give their customers the flexibility to split their purchases into four payments with 0% interest and no fees.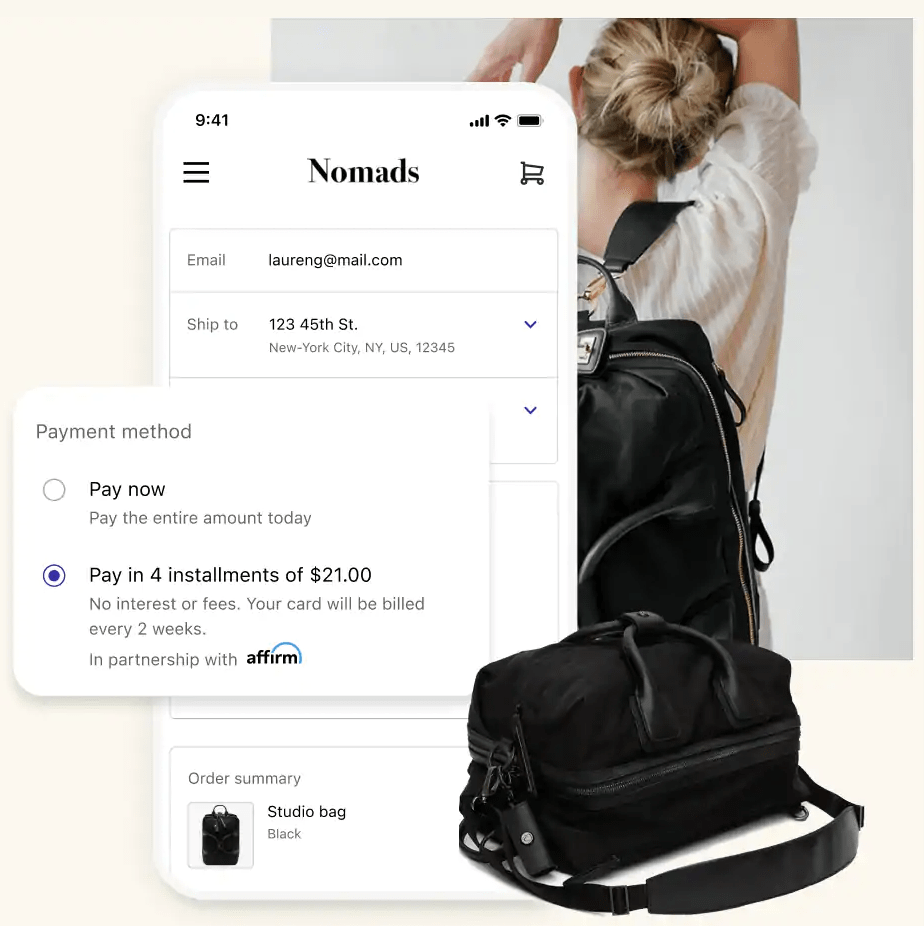 Shopify benefits when merchants choose to offer Shop Pay Installments as Affirm enables merchants to accept more orders from potential customers who may be left out of the traditional banking paradigm. By using AI to analyze different sets of data from the merchant and the consumer, Shopify partners with Affirm to offer embedded financial solutions at the POS that are tailored to each individual consumer. This enables Affirm to offer smarter financial products to each consumer on an individual transaction basis. This creates more value for Shopify merchants and their customers, as Affirm uses transactional and alternative data to protect itself from malicious actors and approve the actual worthy actors. Ultimately, this is a win-win for consumers, who get access to fair financial products, and merchants, who stand to process more sales and develop better insights and better relationships with their customers.
Concluding Thoughts
Shopify is a tech-titan, and it has an incredible platform that enables businesses to sell online, while Shopify helps its merchants from the fulfillment process to the point where the transaction is made, and the money is exchanged. Shopify offers many apps and services to help its merchants get access to the products that will enable their businesses to grow and thrive. Shopify continues to offer new services which will enable merchants to grow by innovating the payment process at the POS as well as making it easier for merchants to obtain capital or traditional banking services.
BNPL is just a marketing tool for merchants to sell more stuff and increase conversion. What Affirm is doing altogether is creating an alternative network of merchants and consumers that incorporates both transactional and alternative data. Given that Shopify touches so many components of its merchants' businesses and its strong partners, in addition to Affirm, specifically Stripe, Shopify is positioning itself to be a leader when it comes to offering embedded financial services that capitalize on the flow of data. Shopify will be a leader in open banking and continue democratizing online commerce by offering embedded financial services. As a result, Shopify has an extremely strong moat and will continue to improve online commerce for both merchants and consumers.
Key Takeaway: I initiate a buy rating for Shopify at $550.